World Cup 2018 Iceland Games live at The English Pub
Comments Off

on World Cup 2018 Iceland Games live at The English Pub
Don't miss Team Iceland play in the WorldCup this June in Russia! The English Pub will show all the games on 6HD screens. We will have great offers on the bar for example all beer on draft on a special price when the Iceland games are on. Plus happy hour everyday from 4-7PM and live music from 10PM.
Game schedule: 
June 16th 1PM – Iceland vs Argentina
June 22nd 3PM – Iceland vs Nigeria
June 26th 6PM – Iceland vs Croatia
Það styttist í HM veisluna og The English Pub mun að sjálfsögðu sýna frá öllum leikjum Íslands á 6 HD skjáum.
16. júní kl.13:00 Ísland – Argentína (Spartak Stadium, Moscow)
22. júní kl.15:00 Ísland – Nígería (Volgograd Arena)
26. júní kl. 18:00 Ísland – Króatía (Rostov Arena)
Allur bjór á dælu verður á sérstöku tilboði á meðan leikjunum stendur og hamingjustund er ávallt milli kl.16-19.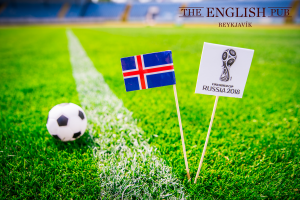 ---
---