The English Pub – Celebrating 10 years
Comments Off

on The English Pub – Celebrating 10 years
The English Pub Reykjavík is 10 years old on December 1st and we are going to celebrate big.
English Pub fagnar 10. ára afmæli föstudaginn 1. desember. Það verður nóg um að vera og þú vilt ekki missa af þessu!
Event scehdule:
4PM to midnight – Happy Hour
4PM to 4:30AM – Live music
6PM to 8PM – Food & Drinks for bar guests
7PM to 9PM – Comedy Stand Up
DAGSKRÁ:
Kl. 15:00 – Dregið í riðla HM (á móti hverjum lendir Ísland?)
Kl. 16:00 – 24:00 Happy Hour
Kl. 16:00 – 04:30 Lifandi tónlist (nánar síðar hverjir spila)
Kl. 18:00 – 20:00 Búlluhamborgarar í boði fyrir gesti
Kl. 19:00 – 21:00 Uppistand og skemmtun
We are hosting a trivia game for bar guests with great prizes, for example gift certificate from Icelandair. // Einnig munum við vera með HAPPDRÆTTI og annað glens! Veglegir vinningar í boði – heildarverðmæti vinninga 150.000kr. Meðal annars 40.000kr gjafabréf frá Icelandair.
Taktu frá 1. desember og fagnaðu 10. ára afmælinu með okkur.
Reserve Friday December 1st and come celebrate 10 years of good times at The English Pub. 🙂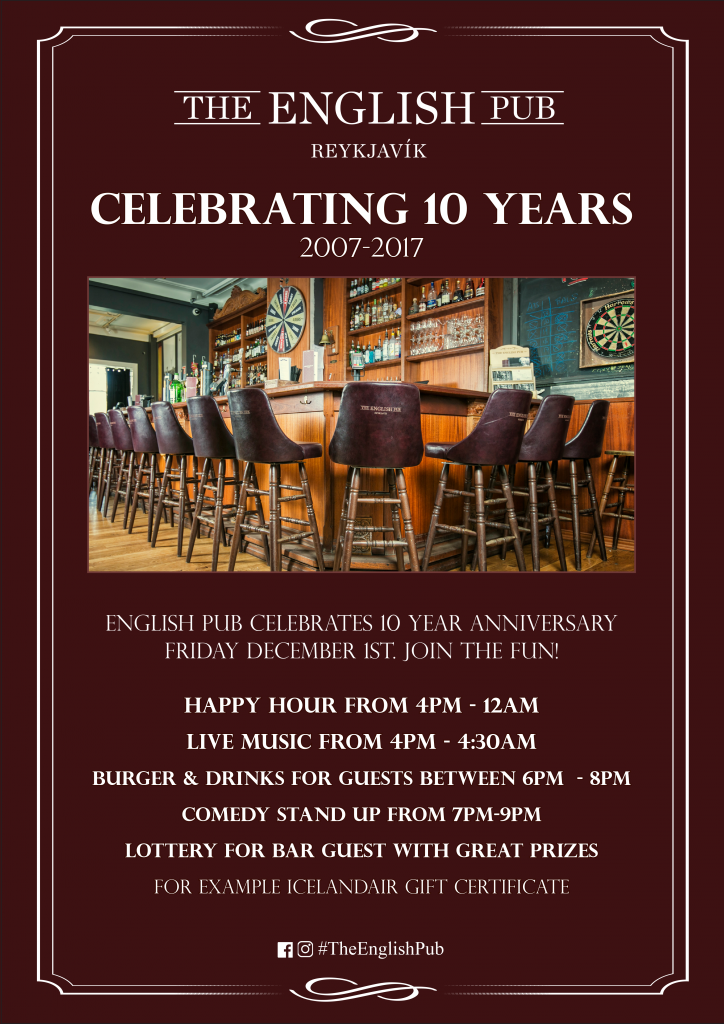 ---
---