Icelandic Beer Platter – It's a must YOU try!
If you are visiting Reykjavík Iceland for the first time then we recommend you try our famous Icelandic beer platter. For only 2.800 ISK you get a taste of the best Icelandic beers we have on draught and a shot of Brennivín icelandic schnapps aka Black Death.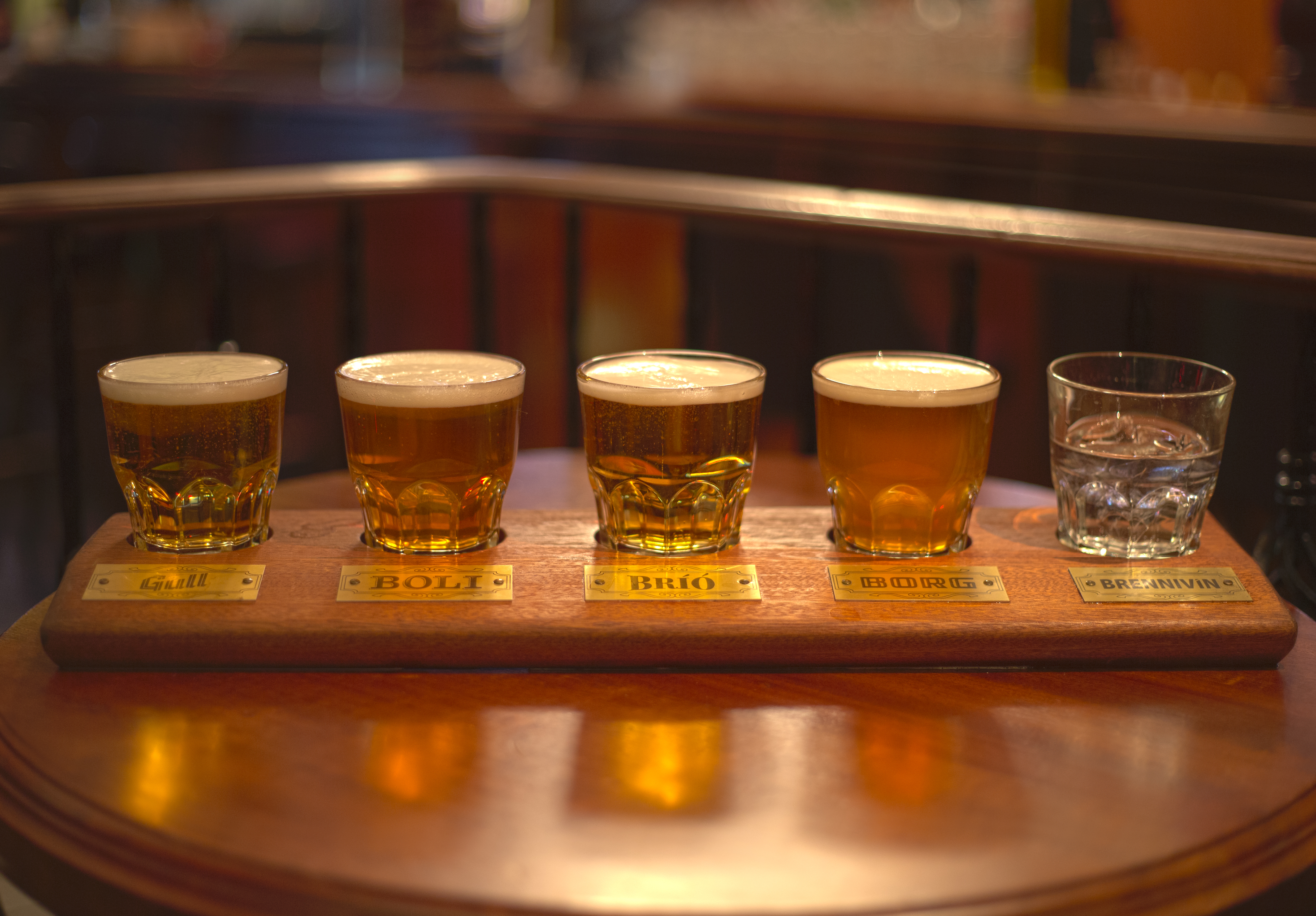 The four Icelandic beers you get to taste are: 
EGILS GULL – Gull is one of Iceland's best know brands and has been enjoyed by Icelanders since March 1st 1989, when the 70 year beer prohibition in Iceland was lifted. Golden coulour, small white head, light toasted malt nose, grainy aroma and fresh lemony hops in the mouth. It is brewed in the style of pale Munich-lagers from pilsner malt, locallygrown barley and pure Icelandic water.
BOLI – Boli beer is the product of a unique effort that has been the characteristik mark of The Egill Skallagrímsson Brewery for a whole century. The production process is longer, the malt is masked twice and fermantation is slower and last but not least Icelandic barley is used. Altogether this gives Boli Premium a distinct quality of softness and full-bodied taste.
BRÍÓ – To the taste Bríó has a light malty flavour but the main feature of this beer is a crisp, bitter hops flavour with a bit of citrus fruit, like an orange peel. This flavour doesn't stick around to the point where it seems out of place but it makes this pilsner standout in terms of flavour dimension as well as in terms of crispness.
The forth beer is from Borg Brugghús either Snorri or Úlfur. Snorri – Snorri is brewed from 100% locally grown barley in Iceland and spiced with arctic thyme. It's unfiltered and slightly cloudy with floral aromas. Úlfur IPA – is a American IPA style beer brewed by Borg Brugghús. Úlfur means wolf in English is a powerful clear ale, rich of love and bitterness. Saturated with american hops and icelandic innovation
Last but not least to finish the off the platter with style your fifth drink is a shot of Brennivín, Icelandic schnapps aka Black Death. This is something everyone visiting Iceland for the first time need to try! Keep us posted how you like it 🙂
---
---