Úlfur, Icelandic for "wolf" and a fairly common name in Iceland, is a west coast, American-style IPA. It's dry and aggressive and the hops are bitter and fruity.
The earliest account of hops is in Naturalis Historia by the Roman naturalist, Pliny the Elder, where he mentions a mysterious plant, Lupus Salictarius, or Willow Wolf.
The English Pub Reykjavík offers Úlfur IPA on draught and in a bottle 0,33L.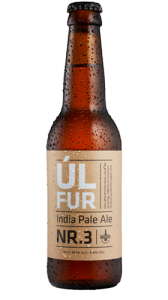 Awards Úlfur IPA has received: 
World Beer Awards 2012 – Europe's Best IPA
World Beer Awards 2013 – Europe's IPA
Global Craft Beer Award 2014 – India Pale Ale