Myrkvi is an unfiltered full-bodied Porter Ale with a dark twist. It is seasoned with coffee from Huila in the southwest of Colombia and specially roasted by the local Reykjavík Roasters.
The coffee gives this ale its depth in synergy with a variety of roasted malts. Myrkvi is an Icelandic given name in Iceland, meaning the dark one.
The English Pub Reykjavík offers Myrkvi nr.13 Porter in a bottle 0,33L.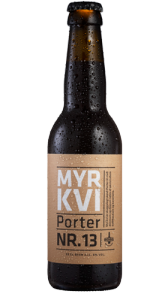 Awards Myrkvi nr.13 has received: 
World Beer Awards 2013 – Europe best coffee and chocolate flavoured beer
World Beer Awards 2014 – Europe silver coffee and chocolate flavoured beer
Global Craft Beer Award 2014 – Silver Chocolate or coffee beer