Hoegaarden is the savior of the Belgian witbier – the light, spritzy wheat beer style flavored with herbs and spices. 500 years of hard work went into making this beer that features the aroma of orange peel, coriander and herbs that the merry monks imported from sunny Curacao.
Speaking of which: pouring Hoegaarden is just like letting the sun fall into your glass: light yellow and naturally murky. And the soft foam adds a cloudy finish. And then there's the soft taste, light and slightly sweet and sour and with subtle citrus notes… ah, just go ahead and taste it instead of reading about it!
The English Pub Reykjavík offers Hoegaarden on bottle 0,33L.
Tasting notes: "Pear, lemon and mandarin orange, with a peppery coriander accent, feature in the aroma of this easy drinking, pale yellow beer, with a soft balance of citrus fruit, coriander, and clove in the taste. Expect a dry and chewy finish with more coriander and cloves". – Quote from the book 1001 beers you must try before you die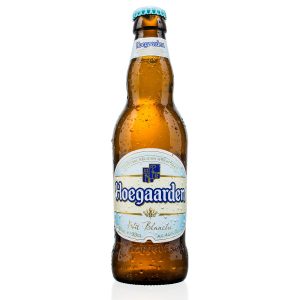 In fact, the jury of the European Beer Star Awards 2014 did just that. Our white won bronze in the category Belgian-style White Beer… delicious!